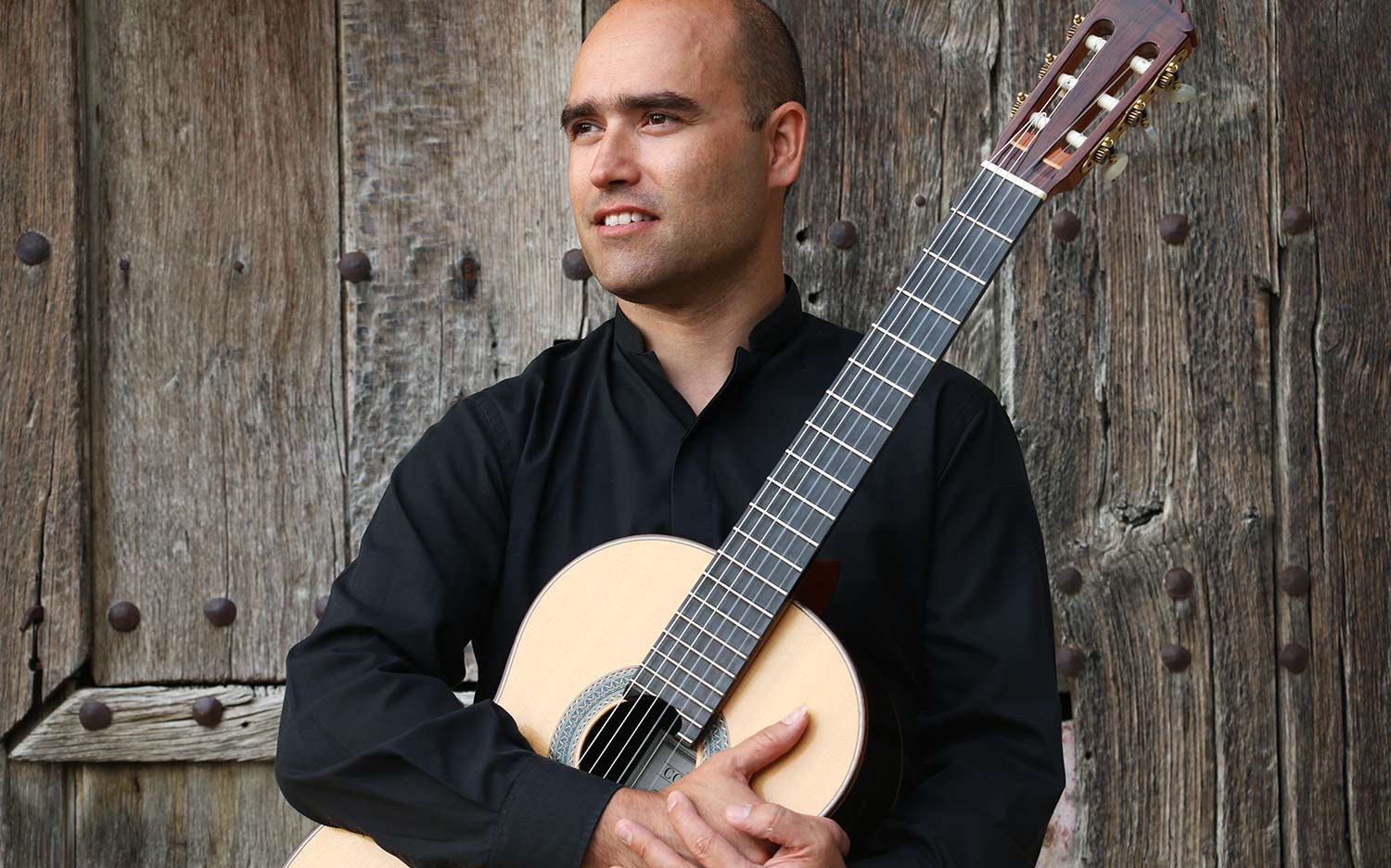 a classical guitarist who performs, writes and teaches music
Born in Oxford (England), Francisco Javier Jáuregui began to study classical guitar at the age of seven with Kenton Youngstrom at the Community School of Performing Arts (today known as the Colburn School of Music in Los Angeles, California. After moving to Madrid he continued his studies with Agustín Maruri and later with Óscar López, also attending master-classes with teachers like Pepe and Celedonio Romero.
After obtaining his Licenciate Diploma from the Associated Board of the Royal Schools of Music he went to study at the Guildhall School of Music and Drama in London, supported by the Leverhulme Trust, where he obtained a Masters Degree of Music in Performance (Advanced Instrumental Studies). At Guildhall he studied guitar with Professor Robert Brightmore, theorbo and chamber music with David Miller and improvisation with David Dolan.
Francisco Javier has played many recitals both as a solo performer and with different chamber combinations in Spain, England, Italy, France, Iceland, Russia, Scotland, Germany, Austria, Malta and Southeast Asia in venues such as the Saint Petersburg Philharmonic Society Chamber (Glinka) Hall, St Martin-in-the-Fields, the Linbury Studio Theatre Royal Opera House, Covent Garden), St. James's Palace (London), the Royal Palace of El Pardo and the Auditorio Nacional de Música de Madrid. He has performed guitar concertos by Vivaldi and Rodrigo (Concierto de Aranjuez) with the Schola Camerata orchestra conducted by José María Mañero and Semioesferas by Delfín Colomé with Sonor Ensemble (a group formed by members of the National Orchestra of Spain and conducted by Luis Aguirre). He has also collaborated with the Saint Petersburg State Symphony Orchestra conducted by Alexis Soriano in Agustín Castilla-Ávila's Ceres.
A large part of the music the Francisco Javier performs is music that he has arranged or composed himself. He has transcribed a number of works for different chamber combinations with guitar and has made  a large number of original arrangements based around folk melodies from different parts of the world. The bulk of his work has been for ensembles of which he is a member but he has also written music for groups like Sonor Ensemble, a Madrid-based ensemble made up of members of Spain's National Orchestra, pianist Sebastián Mariné and Conductor Luis Aguirre.
His interest in expanding the guitar's reprtoire, particularly with respect to chamber music has led him to collaborate with composers such as Agustín Castilla-Ávila, David del Puerto, Hugi Gudmundsson, Karl Nicklas Gustavsson, Marisa Manchado-Torres, Þóra Marteinsdóttir, Polina Medyulyanova, Alfonso Molina, Eduardo Morales-Caso, Þorkell Sigurbjornsson, Hideyuki Takemoto, and Haukur Tómasson.
Francisco Javier works regularly with Icelandic mezzo-soprano Gudrún Ólafsdóttir and since 1997 he has performed with violinist Elena Jáuregui as the Roncesvalles Duo. The three of them perform together a the Aglaia Trio. At present he teaches classical guitar and coordinates the music department at Saint Louis University, Madrid Campus.
His interest in the important role that music should play in all of society has lead him to participate in many different creative music projects in schools, nurseries, hospitals and other alternative spaces. Since 2001 he has participated in outreach programmes organised by Wigmore Hall in London. He was co-director and co-founder of FIMNa (the International Music Festival of Navarra) for 6 years.
He has recorded three CDs with mezzo-soprano Gudrún Ólafsdóttir: Mine is Yours - Icelandic and Spanish songs (12 Tonar, 2008), English and Scottish Romantic Songs for voice and guitar (EMEC Discos, 2013) and Secretos Quiero Descubrir (Abu Records, 2014) which also features violinist Elena Jáuregui. Mine is Yours and Secretos Quiero Descubrir include a number of Jáuregui's own arrangements and compositions.
Promoters please note: if you wish to include this biography in a concert programme etc, please contact me to ensure that you receive the most up to date version.